One fine Saturday afternoon, as I was walking home after a long expedition around London (a casual weekend activity) I found... a night stand.
I have an unquenchable need to give life to old furniture and - pretty much - repaint everything in black and white patterns... so I couldn't just leave an abandoned night stand in need. Even if it was exceptionally boring-looking.
So I invited it home.
I spray-painted the night stand in white and let it dry completely for a couple of hours. I used black acrylic paint for the patterns and some paper tape for the reversed patterns on the drawer. And it was no longer exceptionally boring-looking.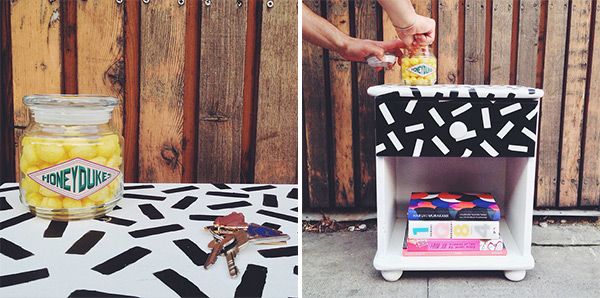 Mind you, the place you see in the pictures is not how my room looks like. Only showing you the night stand in his... so to say... natural habitat. I can assure you it is now in my room, keeping all my books and art supplies and Honeydukes sweets safe.
By the way, speaking of Honeydukes... Sherbet lemons are the best.