Crafts are always fun. But it takes two to turn a craft day into a party and i'm glad i've found the perfect partner in crime for that.
As soon as
Mon
and I visited an art supply store together (and ooh-ed and aah-ed at just about everything inside) - it was clear that we needed a craft day. We decided to make felt plushies, packed materials, bought
somehow healthy
snacks
and made it official: Saturday is craft day.
We made homemade lemonade, munched yoghurt rice cakes and chocolate and listened to
Emancipator
while cutting out paper stencils, threading needles and stitching felt pieces together. Craft days are definitely my new favourite thing.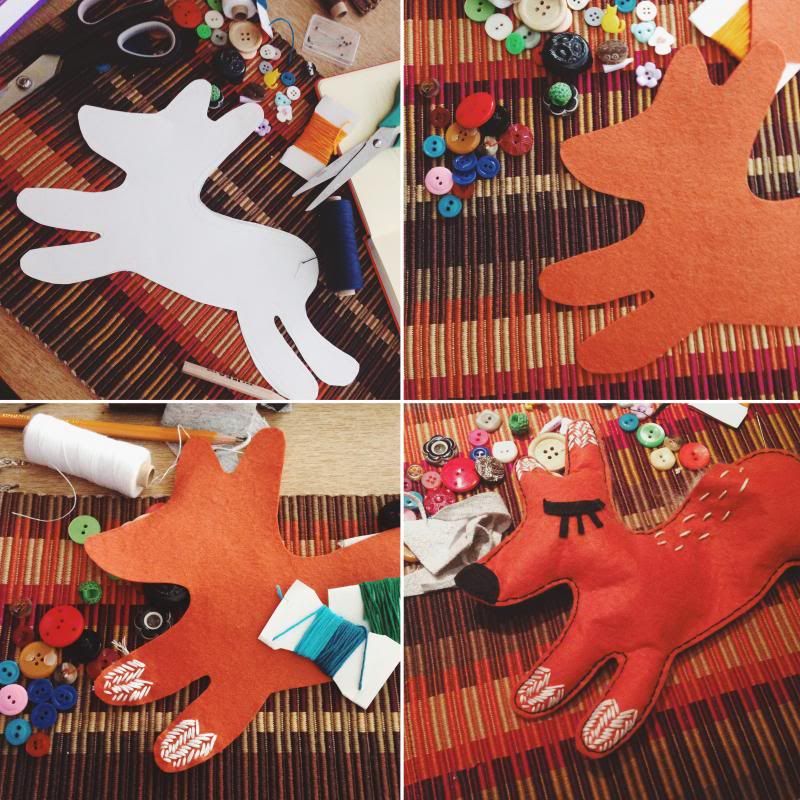 Making a fox plushie out of felt is super easy and super fun on a craft day or any day. You only need orange felt for the body, black and white thread for the details, some stuffing and a tiny piece of cloth of your choice for the scarf.
Make a paper stencil of your fox (or print
this one
) and cut out front and back pieces from the felt sheets. Don't forget to leave space for stitching! Use thick white thread for the details and make a pattern than you like. You can cut out the nose and eye out of black felt or embroider them... i picked the easier way. When you're done with all the little details - start stitching the front and back pieces of the body and tail together. (do them separately and stitch them together after stuffing.) I decided that a thick black thread would go nice with the eye and nose but a thread in the colour of the fox might be a better choice. Leave a little hole so that you can stuff your little fox with whatever you have at hand. (I might have asked for Dexter's help for that). Add a scarf or a necklace or a ribbon or whatever you can think of to give your fox a more sophisticated look.
Either you plan on making a felt fox оr an advanced three-dimentional wolf or a bear or another forest creature - have a craft day with friends. Drink lemonade. Make a mess. Eat chocolate. Have fun.