Here is a fun and quick way to turn your ordinary paper lantern into something much more fun. You only need an hour or two... and your imagination.
There are plenty of ways you could transform a paper lantern. You could apply vinyl stickers, transfer a favourite image using mod-podge or cut different shapes out of tissue paper and glue them on. I chose to draw a simple pattern using poster paint just because I rarely get to use paint and it's always so much fun.
I started by marking the spacings and drawing light guidelines. Тhis makes the pattern a lot more consistent but it is a little tricky, because a pencil that is too sharp may damage the lantern. Try to find a softer pencil for the job - one with a rounded tip would be perfect.
The colouring is very easy and quick, because the paper from which the lantern is made is super thin and the paint dries off for seconds. I added two, sometimes three coats of paint to achieve a solid colour.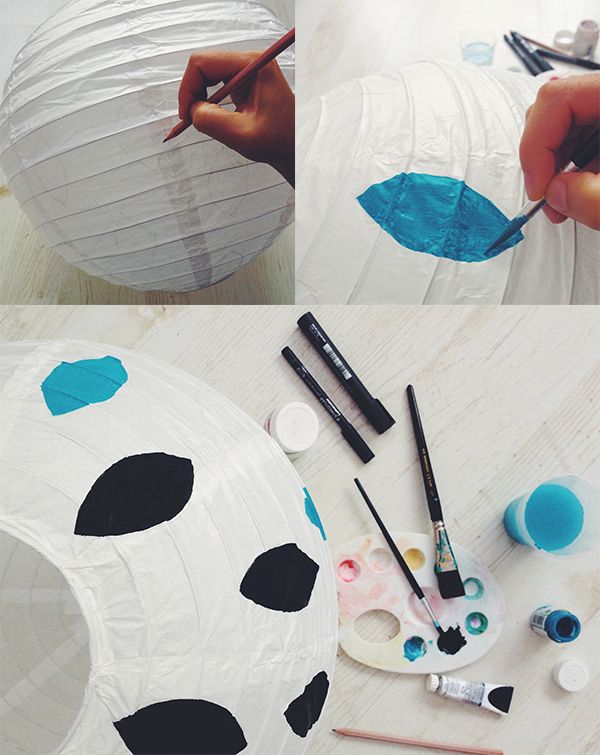 Because the surface of the paper lantern is a bit wrinkled here and there, it's sometimes nearly impossible to come up with a perfect contour. I used a thicker brush for the colour filling and a thinner one for contouring. Don't get too serious about it, though. We go for pretty, not perfect.
An hour or two later (depending on the complexity of the pattern you have chosen) the basic paper lantern has magically turned into something much more interesting to look at. Play with shapes and colours to create the perfect lantern for your place and most importantly - have fun making it :)