Long story short: I found a broken TV in our basement a couple of months ago. It looked so tiny and cute that I didn't want to throw it away. It was a freezing winter, I didn't have anything better to do (aside from studying for exams) so I took out some paint and brushes and decided to have some fun.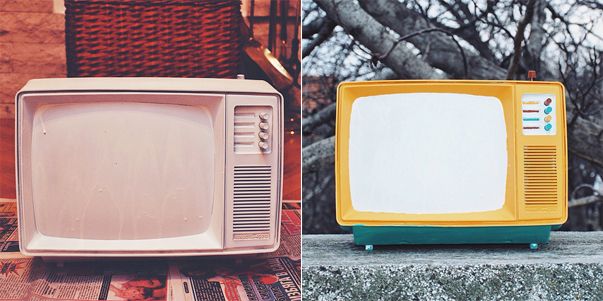 I spray-painted the TV in white and let it dry completely for a day. It took about three or four coverings to hide the original color, especially the dark frame around the screen. Оnce the TV was all white, applying paint was pretty easy. I had chosen a favourite colour combination and a simple geometric texture (triangles have always been a soft spot). I used masking tape to keep the borders clean and two, sometimes three coats of paint to get a vibrant, vivid shade. The quote came last - Marilyn Monroe has said it quite well, hasn't she? It is better to be an absolutely ridiculous yellow TV with a quote on the screen, than one that has ninety-nine thousand channels and still cannot show you anything better.
Тhe original idea behind it all was to put the TV somewhere around town for passers by to see. I talked with a lot of people in order to find the best spot for it, but somehow we always ended up with nothing. We couldn't think of a place where the TV could be safe and visible at the same time. So it now resides in my room waiting to find a proper home.