A couple of weeks ago three little girls approached me and a friend of mine to sell us freshly painted sea shells. They had carefully arranged the shells in a wooden box and had еven prepared a short presentation for every piece. The girls wanted a new bike and had found the cutest way of saving money for it.
I loved the idea. I was thinking about it the whole time I was by the sea and couldn't stop collecting sea shells. Not because I wanted a new bike (though now that I think of it I might as well enjoy a sky-blue one with a flower basket upfront) but because I loved how the shells looked in a set.
Later on I decided sea stones would be a better alternative since they are flat and easier to paint on and - believe me when I say this - I came home with a bag full of nothing other than stones in different shapes.
Stone painting turned out to be a lot of fun. Dexter enjoyed it too. He picked all the materials himself and carefully examined the whole process. We both decided to keep it simple, so we covered the stones in white paint and let them dry overnight. Some of us were so dedicated they slept outside, protecting the painted stones during the night.
It was fun to play with the shapes of the stones and come up with what best would suit them. One was the perfect diamond shape, another looked like a russian doll and I wanted to keep that and work with it. I didn't feel like playing with colours, but experimented with textures, types and illustrations instead. It turned out great, because all the stones are pretty different from one another.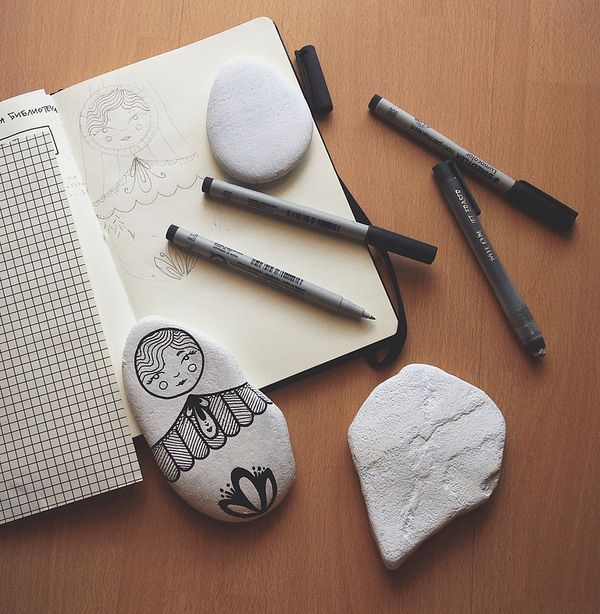 I had so much fun painting all of them. I think I might've just discovered my newest hobby. I rarely put my laptop and tablet down when it comes to drawing and a small change always feels good. Besides, this is the perfect teamwork for me and Dexter.
We might just go out and collect some more stones in a bit, actually.