Remember my story about
Columbia Road flower market
being my favourite market in London? Forget it. It's only half true now because, yes – the smell of lavender and freshly cut grass and all sorts of herbs mixed together is wonderful – but I've found a new love. It's called Portobello Market and things are really serious this time. Have you ever seen
Notting Hill
? Because that's what started
it all.
Notting Hill is a romantic comedy where young Hugh Grant and Julia Roberts meet on Portobello Road 142, and almost instantly fall in love. It's really sweet and made me want to see all the colourful buildings and queer shops for myself. And door number 142, of course.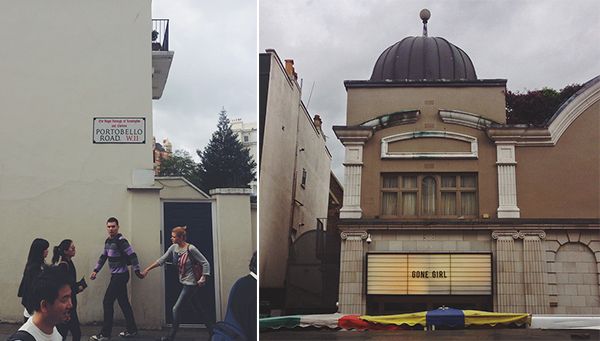 Notting Hill (the actual place, not the movie) looks a lot different than any other part of London. Narrow roads meander and curve, revealing beautiful architecture. Victorian terrace houses are squeezed tightly into the available space, creating intimate atmosphere. Even on a grey gloomy weekend day the place is vibrant and rich in colour: bright yellow facades, pumpkin-coloured doors, baby-blue terraces, lavender window sills.
Portobello Road is, of course, full of people, especially on market days. People from all around London – from all around the world, actually – have come to see one of the oldest and most famous antique markets, that is nearly 150 years old. It's a place for precious antiques, quirky fashion, delicious food, books and music. Portobello Road is also home to the Grade II Electric Cinema, one of Britain's oldest cinemas.
On busy days, market stalls stretch a mile along Portobello Road. Even heavy rain can't stop hundreds of traders from selling all sorts of just about everything. You can eat delicious french banana chocolate crepes and try fashionable winter coats all in one place. You can find antique gems like a hundred year old mechanic watches, pearl necklaces, diamond rings, letterpress stamps, silver cutlery... the list could go on forever.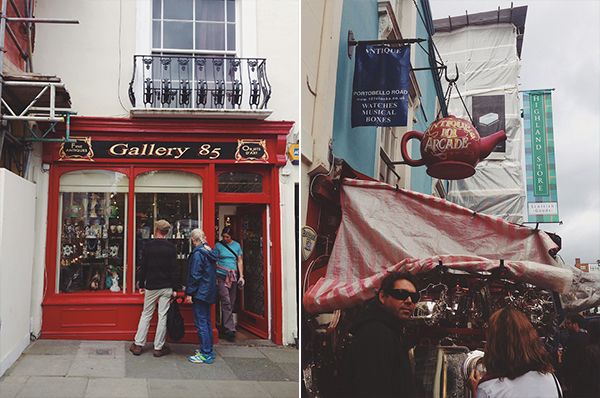 As if the market stalls weren't enough, surrounding Portobello market are lots of unique independent shops and pubs and restaurants. You can grab a cup of bubble tea and visit the Japanese stationary shop, find a street sign with your name on it or try all the quirky sunglasses in the world until you find the perfect pair.
Portobello has loads of character, a melting pot of people from all around the world and lots of good food. If you're in London right now – go discover a great treasure whenever you get the chance. If you're someplace else – don't worry! Hugh Grant is great in Notting Hill.